EUCASS-3AF Conference
Abstract deadline extended to 28 February 2021
Lille Grand Palais - France
4-9 July 2021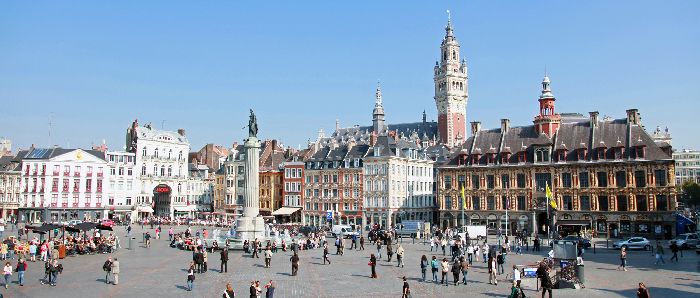 Surprising, unexpected, visionary, creative but also bold : #hellolille
Extended date
for Abstracts
Dear colleagues and friends,

We get messages from many of you informing us that they are still waiting to submit an abstract, hoping the situation clarifies as regards meeting in person in Lille, securing the travel authorizations, controlling of the pandemic, etc.
We too are very preoccupied about those issues.

The 2021 3AF-EUCASS conference will not be held in the virtual mode.
We believe that a congress is an opportunity to meet colleagues, to engage in discussions, launch novel projects, weave networks. It is to make progress a collective endeavour. . These values are missed when at home and facing one's computer screen.. It also raises numerous concerns about time –zone. Eucass is routinely hosting participants from 40-45 different countries, so holding virtual presentations attended in real time by colleagues from both Tokyo, Beijing and Los Angeles is cumbersome. Some congresses have recorded every presentation in advance, and made them permanently accessible to any registered participant. However, this really desecrates the spirit of a congress and we do not wish to implement this solution. Many of us last year experienced such virtual conference formats, and we must say they were not fully satisfactory.

Therefore, if the 2021 congress cannot be held "in person" this year, we will most probably shift it by one year, same location, same organization, probably same dates (around July 4th).
We are following cautiously the situation.
We will for sure take a final decision by March 1st at the latest, maybe before, depending on the evolution of the pandemic and the anticipated constraints, restrictions, quarantine, curfew, aso…

Meanwhile, we suggest you prepare and submit your abstract. We are extending the deadline to February 28th. Note, there will be no further extension as we need to prepare the program in due time before the conference.

Summary: Abstract deadline extended to Feb. 28th, and Go-Nogo decision for Lille first week of March. The congress will be held either physically as planned, or postponed probably by up to one year, still in Lille.
Join the EUCASS-3AF 2021 conference!
Propose a contribution with an oral presentation or a poster.
GOAL OF THE CONFERENCE
France and Belgium join forces and invite you to Lille (France, #hellolille) from July 4th to 9th, 2021, on the occasion of the 9th European Conference for Aerospace Sciences organised by EUCASS.
This edition has received the support of the Association Aéronautique et Astronautique de France (3AF) and will be carried out with the partnership of the clusters Aér'Hauts-de-France, Normandie Aerospace and Skywin for Belgium.
After a difficult year 2020 for the aeronautical and space sectors, EUCASS-3AF 2021 will be an opportunity for our scientific community to renew direct scientific contacts and present its results and proposals for tomorrow's aeronautics and space in a world forced to change.
This four-day conference will be held in Lille Grand Palais, the congress center located in the capital of the Hauts-de-France northern region.
COVERAGE AND TOPICS
EUCASS is the largest aerospace conference in Europe, the high-level forum for all aeronautic and space research players:
System-Integration
Flight Physics
Flight Dynamics/GNC & Avionics
Structures & Materials
Propulsion Physics
and additional transverse topics related to:
Sustainable Space
Advanced Performance Engineering
Space Exploration – ISRU
Reusable Systems for Space Access
Flow Control
New systems for future space operations
UAVs: Future Applications/Services and Specific Technologies
Future of Aeronautics
TARGET AUDIENCE
This is the ninth EUCASS conference after Moscow (2005), Brussels (2007), Versailles (2009), Saint Petersburg (2011), Munich (2013), Krakow (2015), Milano (2017) and Madrid (2019).
It attracts all players, research scientists, engineers, managers and decision makers, world over. It positions itself at the service of agencies and industry and strives to reduce the time to market of discoveries in academic laboratories. Its goal is to foster the competitiveness of its end users, industry and agencies alike.
EUCASS-3AF 2021 will offer space for exhibitions which provides an excellent opportunity to demonstrate expertise, products and services to a targeted group of researchers, scientists, engineers and senior managers. Customized Sponsorship packages will be available to allow for brand positioning throughout the event.
CALL FOR ABSTRACTS
You are invited to submit a 500-word abstract. Upon request from a large number of potential participants, we extend the abstract submission period until Sunday, February 28th midnight. Authors of accepted abstracts will be invited to prepare a full 10-15 page paper and submit it before the deadline fixed on June 20th, 2021.
Papers effectively presented and submitted in due time will receive a DOI number, will be published in the conference proceedings with their assigned DOI and will be fully available via open access.
KEY DATES
November 2020: Call for papers
February 28th, 2021: Submission deadline
March 22nd, 2021: Notification to authors
By mid-April 2021: Preliminary program
May 28th, 2021: Early bird fee deadline
July 4th-9th 2021: Conference at Lille Grand Palais congress center
Event website
This event is co-chaired by: